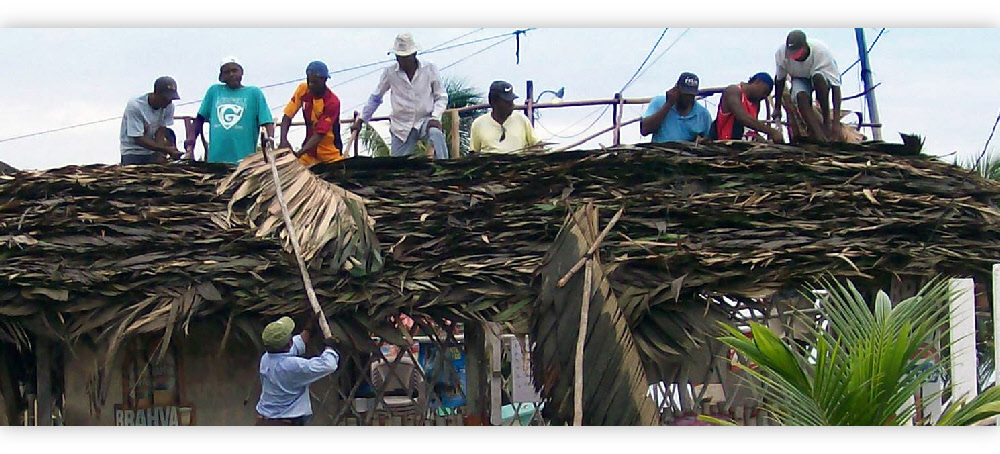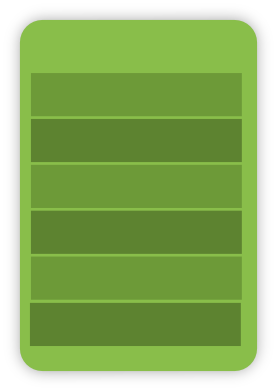 Garífuna Businesses
in Labuga
Businesses featured in this section work towards the advancement of the Garífuna people and way of life. At one time, Labuga was a sleepy seaside fishing village, bustling with Garífuna activity. Today, the main streets are lined with stalls selling indigenous handicrafts, clearly marketed toward tourists who come to experience Garífuna culture. The Garínagu welcome you to patronize their businesses and assist in rebuilding a Garífuna Labuga.
The following centers are not in business to sell items or services at a profit, but rather to encourage Garífuna cultural preservation and service to the Garífuna community of Labuga.
Restaurants, Night Clubs & Bars
One of the biggest differences between Garífuna cuisine and traditional Guatemalan food found around Livingston is the existence of flavor. Garífuna cooking is highly recommended for those who are desperately seeking food that is extraordinarily appetizing and more exotic than anything you will find in all of Guatemala. With recipes passed down from generation to generation, the Garínagu do not depend on bulk packaged condiments in their cuisine, but rather use spices and herbs grown in their own gardens and freshly pressed coconut oil. Garífuna cooking represents a syncretism of many Afro-Caribbean cultures, taking full advantage of the fresh seafood caught daily. Caution: Garifuna dishes prepared by non-Garifuna cooks will never carry the passion and sabor of the real thing.
Diana and her two chefs have created a very homey atmosphere in her small yet quite accommodating restaurant just off the main street on the downslope to the beach. The place is filled with Garífuna artifacts and Diana, perfectly trilingual in English, Spanish and Garífuna can tell you the story behind everything. The food is exquisite with many traditional Garífuna dishes not offered in any other restaurant in Livingston. The first time I ate there, I wanted the recipe for the rice dish, but Diana rightly explained that it wasn't so much the recipe but the ingredients that were only available in Labuga. The best seating is the table outside where you can take in the sights and sounds of the main street. Diana was kind enough to send me these wonderful photos.
Owner: Diana Martinez Leiva
Location: Barrio Captiania
Hours:
Email: dimamale@hotmail.com
Telephone: (502) 7947-0744, 5682-4925, 5468-7600
Before eating here I spoke with the owner, Mariano Gotay. I explained that I was dying to try tapado, the traditional Garífuna dish that was prepared with plantain, coconut millk, and lots of seafood, but I was a vegetarian. Mariano did not even blink as he said he would prepare a vegetarian tapado that I would love. The food was so flavorful that it almost brought tears to my eyes. Not since my mom's Jamaican cooking had I experienced such vibrant and exciting flavor. Cafe Gotay has two locations, one not far from Diana's (above) further down the slope to the beach on the main road, and the other is right on the River Quehueche – literally right on the river! Mariano is trilingual in English, Spanish and Garífuna and will happily explain Garífuna ingredients with his wonderful sense of humor. You have to take a taxi to get to the locale by Quehueche but the beauty of the location and food is more than worth the 7-minute drive.
Owner: Mariano Gotay
Location: Two locations, Barrio La Playa and Quehueche
Hours:
Email: marianogotay@yahoo.com
Telephone: (502) 4292-6578
Even though this location is only open on special holidays, it is probably the most exciting location in Livingston. Frequented mostly by Garínagu, it's not uncommon to see a dominoes game, dancing, eating, and lively, beer-fueled conversations simultaneously. The young Garínagu who come down from the United States to visit their relatives love this place and it's fascinating to hear English, Spanish and Garífuna spoken all at the same time. The owner, Doña Lonia, participates in almost every Garífuna cultural event that involved her expertise in punta dancing.
Owner: Doña Lonia
Location: Barrio San Jose
Open on special holidays only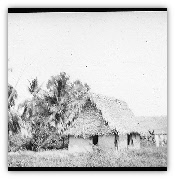 A favorite night time destination for tourists, this night club features amazing tropical drinks, local beer and loud music to loose yourself in dance all night long. Punta, bachata, salsa and merengue is what you will hear here. I watched as the owner, Blanca meticulously repainted the outside of this hotspot with all sorts of Garífuna artistry. Blanca herself is a recorded Garífuna singer and she and her daughters might be among the best punta dancers around. This night club is centrally located, making it close to many Labuga hotels.
Owner: Blanca
Location: Barrio San Jose
Hours: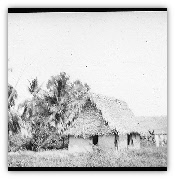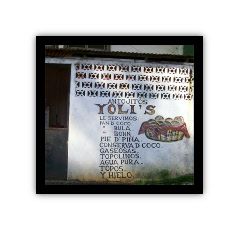 Situated directly across the street from the Municipal building, this is a popular place for coconut bread, bulla, and many other traditional Garífuna sweet treats. They open early, so stop by here and stock up on some freshly made coconut bread for the boat trip back to the mainland. As an added bonus, there are often ladies who sit just outside this shop, selling shark oil, home-made guifiti, coconut oil or other traditional Garífuna concoctions.
Owner:
Location: Barrio El Centro, not far from main dock
Hours: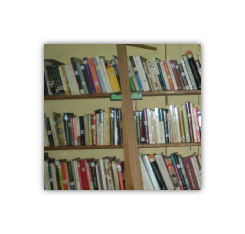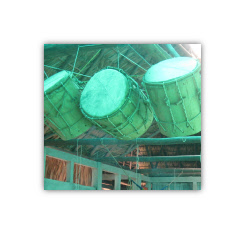 Belüba Lüba Fürendeí is a library and community center for children. They are a non-profit, non-religious and impartial committee that provides activities and programs for the youth of Labuga. The Library prides themselves on being financially self-sufficient by developing their own fundraising strategies. The goal is to foster the community in which they live. The Library's vision is to provide a place for the children of Labuga to have access to books.
Contact: belubaluba@hotmail.com
Website: www.belubalubafurendei.org
Dabuyaba Afurugu Gunfuliti Temple
Dabuyaba stands on sacred ground, not far from the Siete Altares waterfalls. This impressive temple is a revered gathering place of worship, learning and ceremony for the Garífuna community.
(Dabuyaba is a solemn place of meditation and is not open to the public.)
Contact: Fermín Arzú, arzufer@aol.com
Although many Garínagu do not have their own brick-and-mortar building, their culinary expertise should not be overlooked. Be on the lookout for Garífuna women with large, covered pots or baskets because inside are typical foods or drinks of the likes you have never experienced. Don't be shy, go up and ask what they have to serve; you'll find that they would love to tell you about the food, its ingredients and the preparation. During the evening (especially on the weekend) you can find many of these women of all ages, sitting down on store fronts or on various neighborhood corners selling coconut bread or many sweet confections. When cacao is in season, some Garífuna women prepare chocolate treats that would make Godiva close up shop and put her clothes back on to come to Livingston.

Photo courtesy of Sister Adriana Pesci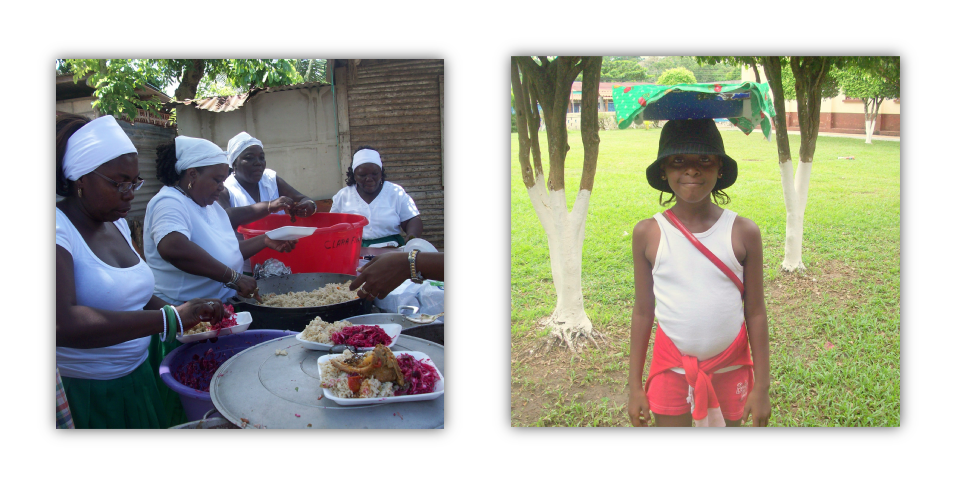 Photo courtesy of Sister Adriana Pesci









The following Garífuna-owned lodgings are geared more toward the happy backpacker. Cozy and no-frills, look forward to the owner making you feel right at home.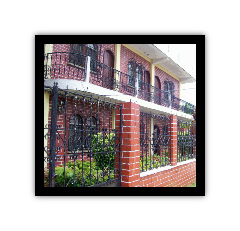 This is the hotel in which I lived for many months during my field research in Livingston, and I could never have picked a better location. Located within a Garífuna neighborhood, this is the perfect place if you want to see some serious Garífuna daily activity. The rooms are very spacious and you can check email on the computer in the main lobby. Blanca and her family live here and they will make you feel right at home. Turn left and go straight down to the beach, or turn right to head to the town's main street; just around the corner is the Tiki Night Club.
Owner: Blanca Alvarez
Location:Barrio San Jose I
Phone: 7947-0183
Email: quiqueboss@hotmail.com
This is a place that I did not visit personally, but I understand it to be as cozy and homey as Hotel Garífuna.
Owner:
Location:
Phone:
Email: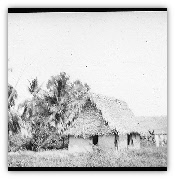 Not since I first visited Livingston over a decade ago have I had the pleasure of visiting a shop wholly devoted to Garífuna handiwork. Garífuna crafts are not all necessarily art for art's sake, but rather utilitarian. Although a hand-made coconut grater made from wood and sharp stones might seem an exotic wall adornment to the casual tourist, the Garínagu use it and most of these items in their daily lives. The products are organic, made from wood, shells, stones, and most anything found in nature. The Garínagu have found a way to inhale and exhale alongside Mother Nature, using her gifts to their maximum potential.
Diana, also the owner of the Tres Garífunas restaurant (see above), opened this store in time for November 26, 2010, the National Day of the Garífuna in Guatemala. I have not had a chance to visit her store, but she tells me that she sells drums, coconut graters, coconut oil, mortar/pestle sets, t-shirts and many other items. As of this publication, this is the only Garífuna arts store in Labuga, so it is worth stopping here to buy your authentic Garífuna-made articles rather than from the non-Garífuna stalls on the main street.

Owner: Diana Martinez Leiva
Location: Barrio Marco Sanchez Diaz
Hours:
Email: dimamale@hotmail.com
Telephone: (502) 7947-0744, 5682-4925, 5468-7600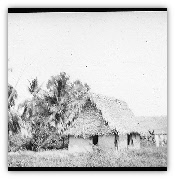 General stores are commonplace all over Guatemala, selling everything from pencils to aspirin (one pill at a time). Livingston certain has its share of general stores, so why not patronize one owned by a Garífuna?
I did not have a chance to visit this place when I was in Labuga since it has only recently opened, but I understand it to be a well-stocked, one-stop store. They not only have t-shirts with Garífuna themes, but they also have office items such as paper, pencils and notebooks. They also carry many of the items needed for one fantastic head of braids such as synthetic and real hair for extensions. Livingston is the best place in all of Guatemala to get your hair braided!
Owner:Dilia Asaela Palacios Cayetano
Location: Barrio El Centro
Hours:
Email: diliasaela@gmail.com
Telephone: (502) 2251-1630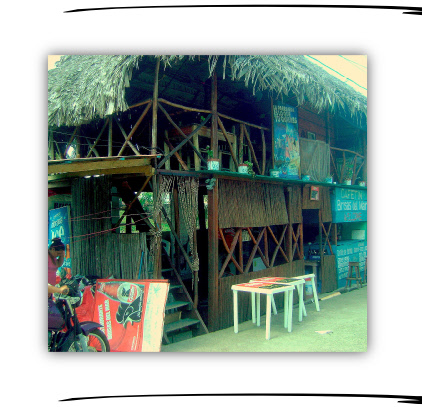 This restaurant is one that I saw every day during my stay in Livingston but I did not visit personally. I am told that they serve the traditional Garífuna tapado and many other seafood dishes and they also serve one of my favorites – fresh coconut. It gets very hot in Livingston and there is nothing better than drinking a refreshing (nutrient and electrolyte packed) cold coconut.
Owner: Francisco Sanchez
Location: Barrio Barique, Main Street, on the downslope to the beach
Hours: 8am - 1pm, every day
Phone: (502) 7947-0893